Decorah Trolley
Get around in style on the unique Decorah Trolley. The trolley will offer six pick up locations throughout downtown Decorah and will run a continuous loop. Friday noon–5:00 p.m. and Saturday 12:30-5:00 p.m. Specific locations are noted on the Fest map.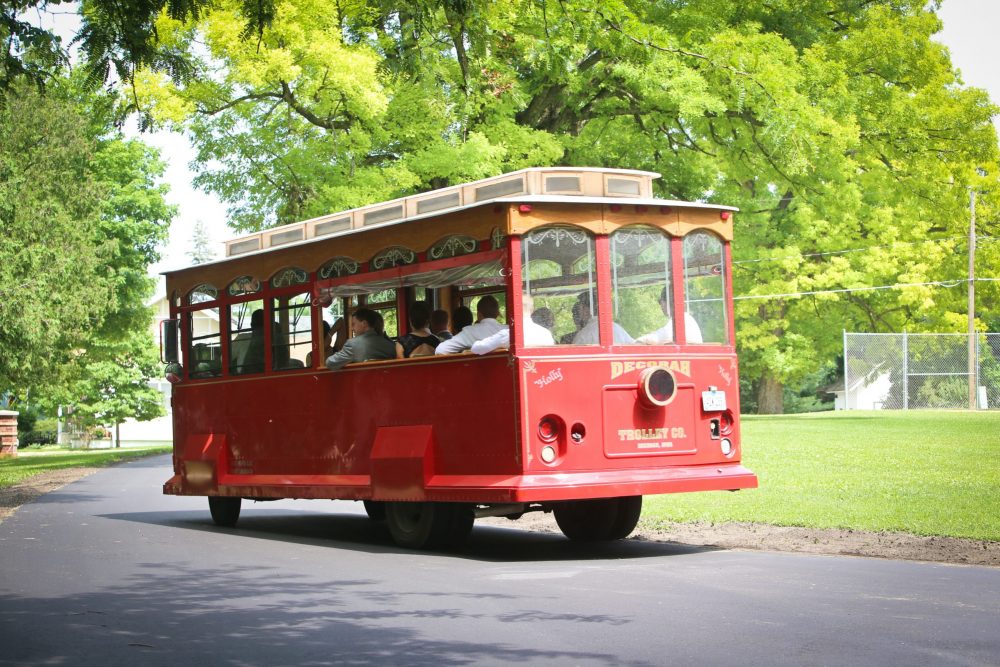 Hotel/Campground Shuttle
Shuttle transportation provided by EARL. Pick up and drop off locations are:
Centrum Plaza in front of the old Quillin's building
Fest grounds by Vesterheim
Luther College's Preus Library Parking Lot
Pulpit Rock Campground
back to Fest grounds at Vesterheim
and then back to Centrum Plaza (completing the loop)
The shuttle will run continuously, with pick up/drop off at Centrum Plaza on the hour, and at Luther College on the half hour. Times are approximate. The shuttle schedule begins Friday at noon and runs through 10 p.m. Shuttle Saturday begins at 8 a.m. and runs until 10 a.m. with no pick up during the parade/the 11 o'clock hour, Saturday shuttle resumes at noon and runs through 10:30 p.m.
Walking and Biking
Decorah is a pedestrian- and bike-friendly community. All Nordic Fest activities are in easy walking distance from downtown Decorah. And if you love the great outdoors, be sure to bring your bike and take it for a ride on the 11-mile Trout Run Trail.
For Your Safety and Enjoyment…
To ensure everyone's safe enjoyment of Nordic Fest, the use of bicycles, skateboards, scooters, roller skates and roller blades, snap and pop or firework devices are prohibited in designated Fest areas. Dogs and other pets must be on leashes, and Decorah's Animal Waste Ordinance will be enforced. All motorized vehicles in Fest areas must be licensed official Nordic Fest vehicles. Thank you in advance for your cooperation.